A home for children and young adults with a disability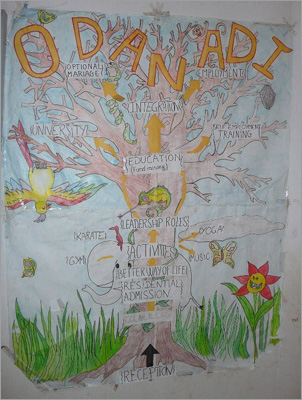 During rescues in illegal brothels, we often encounter children with a physical or mental disability. Sadly there is 'market' for these children. With the absence of a protective network these children are particularly vulnerable and become easy targets for exploitation. Most of these children have been disowned by their family and therefore they have been forced to live on the streets. Each child rescued by Odanadi has its own history, but it appears that some of the children we rescue need more intensive and specialized care.The treatment of this group of children is often complex, as a result of what they have gone through and various disabilities. This often result in behavioural problems. Sadly in the shelter they are also teased by the other children. There's a need of a loving home where the needs of this group can be met.
Manjula*:
Manjula is a victim of human trafficking and she was saved from a brothel at the age of 19,having been abused and maltreated for at least seven years. Manjula is deaf, which makes communication difficult. She also has a mental disability. Human traffickers target girls like Manjula, they are easy prey and are expected to serve 20 to 30 clients per day. Manjula is infected with HIV and she is sometimes very ill. Odanadi is providing regular medication to her. It is a challenge for Odanadi to look after her as well as to protect her. Manjula is a regular run-away. She seeks contact with men, probably looking for 'clients' or a meaningful relationship. She feeds herself badly, is often agitated and can be very restless. Encouraging her to get involved in daily activities is difficult.

Chaitra*:
Chaitra comes from a poor family. Both her parents worked while she had to take care of her younger sister. At the age of 10 her father 'left' her with a rich family to work as a housekeeper. She was treated like a slave and was fed only with left-overs and rotten food. One day Chaitra fell down the stairs and broke her pelvis. Instead of visiting a doctor, the man of the house left her at a railway station. Chaitra managed to board a train to Mysore. In Mysore she was spotted by a beggars-gang and she was forced into begging by the female leader. If Chaitra refused to cooperate she was maltreated and abused. She was badly physically neglected, mentally disturbed and she had skin problems. The gang leader completely exploited her vulnerabilities.
When two rescuers from Odanadi found Chaitra begging and crawling on the street, they immediately decided to bring her to the Odanadi-shelter. Thanks to the extra care and dedication of the Odanadi team, her condition slowly but surely improved. She had hip surgery and medical treatment to cure her skin problems. Eventually she could even walk without a stick. With the help of the informal teacher of Odanadi she was able to pass the 7th standard exam within 4 years. At the age of 14, many admired her for her strength, perseverance and dedication. She has a strong sense of justice and was actively giving speeches to promote civil rights for women and children as well as joining parades and press conferences organised by Odanadi. She has now re-established contact with her family and is living with her parents and sister.
What is needed now?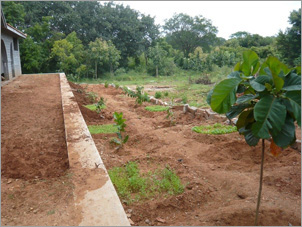 Currently there are eight girls at Odanadi who need more intensive, specialized and focused care. As previously mentioned, we encounter more and more children with a disability during rescue operations who also need this type of intensive care. Odanadi would like to open a loving and caring home for twenty children and young adults living with a disability. In this home we want to offer them the help and support they need to achieve their potential. Creative therapy, physiotherapy, education, psychological help and medical care are vital means to accomplish this. A piece of land is available for this project, close to the boys home of Odanadi which is an ideal location, thanks to the peaceful and natural surroundings. It is our ambition to see more girls, like Manjula and Chaitra, receive the care which they deserve. To build this unit, we require €80.000. To help us raise this amount we kindly ask for your support. Please donate via IBAN: NL53 RABO 0127 9489 88. In the name of Stichting Odanadi NL in Oostvoorne referencing United for Humanity. If you would like more information about Odanadi, this project or its financial report, please feel free to contact us.
* Names have been changed.